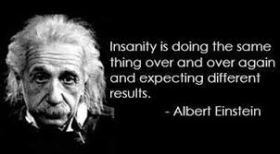 At the beginning of each new year the fitness industry bombards us with quick fixes, challenges, cleanses, magic potions and get your ass in shape fast programming that would crush an elite athlete on day one. There are promotions, offers, specials and deals promising instant salvation from the many years of a sedentary lifestyle, poor dietary selections and prioritizing life choices to include everything except one's physical wellness. Faced with declining health, rising health care expenses and poor functional capacity, many will get sucked into this emotional vortex of hope. They may lose a few pounds, hang with the program for a few months and then quickly find themselves in the junkyard of dysfunctional fitness, injured, frustrated, burned out and with less money in their wallets than when they started.
This brings me to the article below by Dr. Steven Devor, written earlier this month for Fleet Feet's Movement and No Boundaries program. While it targets their program, the message is clear regarding the process. Well worth a read regardless of what program you chose to transform your life. If you are not willing to institute a fundamental shift in your thoughts and behaviors, the chances of long-term success are very low.
Recently I have been thinking a great deal about the group of people enrolled in both The Movement and our No Boundaries programs. I know for many of you the primary reasons for being involved in one of the two programs are the combined goals of weight loss and improved health.
When you recognize and accept that it may very likely encompass more than a year to accomplish your goal of healthy and sustained weight loss, the proposition can seem overwhelming. However, you have support. All of us involved in The Movement and No Boundaries are fortunate to be working with you at the very beginning of your journey. What I hope you will accept is that this is not about a diet, or a short-term fix. This is the beginning of your lifestyle modification, a new healthy direction.
We know from research that many individuals faced with the sometimes seemingly insurmountable task of weight loss become defeated and give up before they even allow themselves to really try. It just seems so far off, so far down the road. And if you have experienced frustration or are not meeting your goals, I believe you need to be honest with yourself and ask a few hard questions. Is this something you really want to achieve? Are you truly and fully committed to doing this? Are you doing everything you can to achieve your goal?
There is one piece of advice I would offer each of you. Those that are attempting to responsibly lose weight, who are consistently engaged in that struggle. I believe you need to immediately stop concerning yourselves, filling your heads with worry, about what it is you will do tomorrow or next week to achieve your goals. Just think about and focus hard on what concrete and positive steps you are going to take today to pursue your long term goals of weight loss, enhanced health, and increased fitness. One day at a time. In my opinion, slow but steady progress will always carries the day for almost every human endeavor.
My goal for each of you is to create a true transformation in both your internal thought process and your outward behaviors. This is not about next year, next season, next month, next week, or even tomorrow. Start with today. Today, we all need to simply be more physically active, eat healthy and in moderation, and give ourselves our own best effort. And then repeat this effort every day. In the end all those points down the road, every tomorrow, will take care of themselves. Again, one day at a time.
In my experience, those that are successful in achieving long term weight control, health, and fitness have instituted a fundamental shift in both their thoughts and behaviors. Healthy living is a lifestyle that they have adopted. Slowly but surely, your own lifestyle adaptation will take root and the healthy, forever changed, individual grows and blossoms and inspires the next. But it has to be one day at a time.