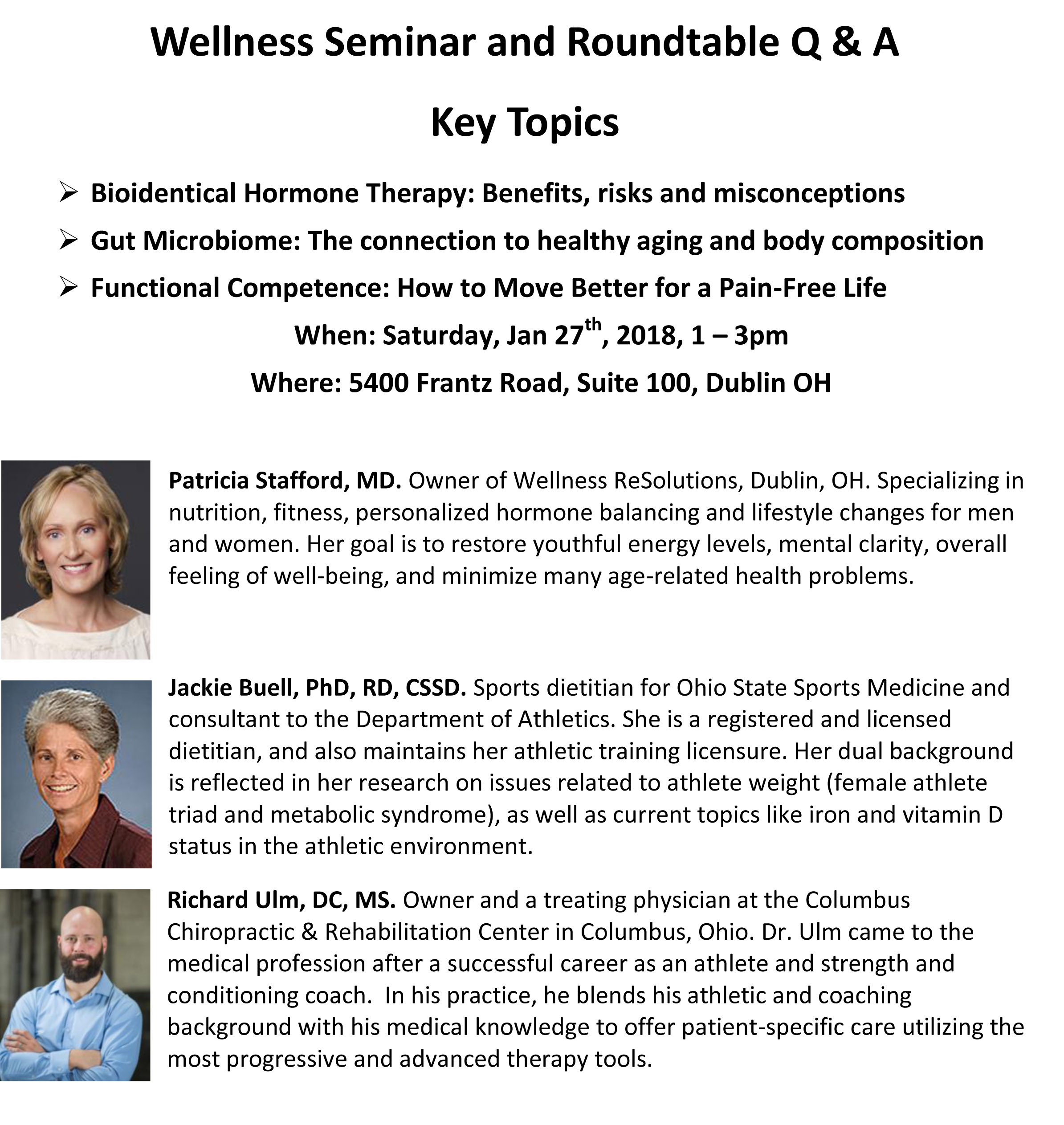 Topic Overview
Dr Stafford. Bioidentical Hormone Therapy (BHRT) can restore healthy hormone levels for both women and men to help them feel healthy and vibrant again. Personalized hormone balancing can optimize your body's function, help you to regain your energy and mental clarity, and minimize many aging-related health problems. We'll review the benefits and risks of BHRT, and address the many misconceptions about it.
Dr Buell. The gut microbiome can impact our physiology in many ways and plays a significant role in our overall health. Associations are emerging between our gut health and inflammatory disease such as rheumatoid arthrtis, cancer, obesity, diabetes, cardiovascular disease and mental health. There has never been a more important time to understand the importance of proper gut health and living a productive and healthy life.
Dr Ulm will cover the importance of moving not only often, but moving well. All movement, no matter how simple, has "movement prerequisites". He calls this Functional Competence. If we are to perform at our best, and live a pain-free life, then we need to make sure that we have the functional competence to do so. This requires specific, targeted exercise.
The seminar will run 1:20 with 40 min available for anything you want to ask our panel regarding nutrition, weight-loss, hormone replacement, chiropractic care/rehabilitations and other related topics.
Seating is limited, register below. The seminar is open to anyone interested and there is no cost. We do ask that if you register, please attend. Registration will not result in the solicitation of services or products of any kind. This is strictly educational. If you have any further questions please email This email address is being protected from spambots. You need JavaScript enabled to view it..